The
World's
Best
Dylan
Server
Dylan fans all over the world connect daily to Karl Erik Andersen's Dylan server at the NBR. He has the world's best information pages about the megastar.
Karl Erik Andersen is a true Bob Dylan fan. Since 1993 he has built up the world's best Internet server with information exclusively on Bob Dylan. The server consists of close to 1000 files of images, text, sounds, video and cartoons. It's steadily growing.
- My home page "Expecting Rain" has more than 2000 visitors every week, says Karl Erik Andersen.
His Dylan pages are recommended as worth visiting on Bob Dylan's own CD-ROM.
Dylan Agent
Karl Erik Andersen is one of several Dylan agents for all fans around the world. He is reponsible for the Dylan Atlas, where place names in the megastar's lyrics are collected. In addition he has the Who's Who page. It is a register of persons with some connection or other to Bob Dylan.
Edits Information
Karl Erik Andersen writes little about Dylan himself. On the other hand, he systematizes and organizes what others write about the artist on a special server, which is open to anyone in the world all day and night. Karl Erik communicates with other Dylan fans by electronic mail (E-mail), and collects new Bob information from a discussion group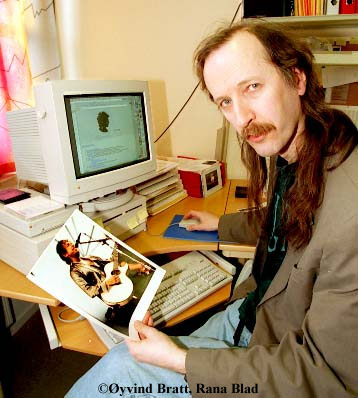 on the net. This group is open to everyone who wants to comment or ask questions about Dylan.

I value highly the contact I have got with others with the same interest in Bob Dylan. I have got friends via the Internet, and we stay in touch by E-mail, says Andersen.

Some people who have made special Dylan pictures or photographs contact Andersen. They want him to publish them on the net.

- From a girl in Pennsylvania, USA, I received a selfmade Bob cartoon, which I have published on my server, says Karl Erik Andersen.

On the other hand there are links (connections) directly to other servers around the world from Andersen's Dylan server. There people can find large picture collections, complete lyrics, sounds and videos.
Dylan magazine
The world's greatest Bob Dylan magazine, "The Telegraph", has been in touch with Karl Erik. Together they are planning to publish a































selection of articles and pictures from coming issues on the net.

- We may also include aticles and images from back issues that are out of print and hard to get, says Andersen.
Long hours
Every day I spend around two hours to keep abreast of Dylan news, says Karl Erik Andersen. He admits that his wife does not fully appreciate all the time needed to keep the server updated at all times. Many long hours of work has resulted in the world's most recognized Bob Dylan pages. The address of the Dylan home page "Expecting Rain" is: http://bob.nbr.no/

Arne Forbord

Picture caption:
Karl Erik Andersen from Båsmoen systematizes information about Bob Dylan on the Internet via a special server at the NBR. It is the world's most recognized Dylan page. Photo: Øyvind Bratt