Blakley, Ronnee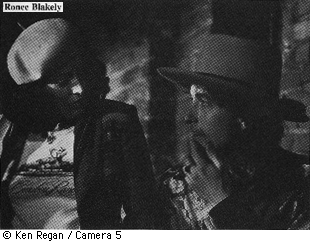 Singer, actress, played on the Rolling Thunder Revue and in Renaldo and Clara.
---

Date: Fri, 24 Jul 1998 09:44:55 EDT
Sender: The Bob Dylan Discussion List (HWY61-L@LISTSERV.ACSU.BUFFALO.EDU)
From: Pete Oppel (Smokefeath@aol.com)
Subject: Ronnee Blakley
In a message dated 7/24/98 1:06:01 AM Central Daylight Time, rainbow wrote:

     I want more information about Ronnie Blakeeley.

Actually her name is Ronee Blakley. In 1979 she married director Wim Wenders,
best known I guess for making the movie "Wings of Desire," arguably the second
best movie of the 1980s (after "Raging Bull") that was remade just this year
as "City of Angels." They were divorced in 1981.
She was nominated for an Oscar for best supporting actress for her role as the
Loretta Lynn-type character in Robert Altman's "Nashville," but her film
career since then has been very spotty. Her last screen appearance that I'm
aware of was in 1990 in a movied called "Murder By Numbers." Before that she
appeared in:

A Return to Salem's Lot (1987)
Someone to Love (1987)
Student Confidential (1987)
I Played It for You (1985)
A Nightmare on Elm Street (1984) (she played Marge Thompson)
The Oklahoma City Dolls, The (1981-TV movie)
The Baltimore Bullet (1980, I think)
Lightning Over Water (1980)
Good Luck, Miss Wyckoff (1979)
 and before that was Renaldo and Clara (1978)

Hope this helps a little.


---


---