Burroughs, William
Influence. Died August 2, 1997.
---

Date:    Tue, 17 Oct 1995 18:50:30 -0400
From:    Robin Jatko (rjatko@UMABNET.AB.UMD.EDU)
Subject: Burroughs Meets Dylan

>From WITH WILLIAM BURROUGHS/A REPORT FROM THE BUNKER by Victor Bockris:

BOCKRIS: When did you first meet Bob Dylan?

BURROUGHS: In a small cafe in the Village, around 1965. A place where
they only served wine and beer. Allen had brought me there. I had no idea
who Dylan was, I knew he was a young singer just getting started. He was
with his manager, Albert Grossman, who looked like a typical manager,
heavy kind of man with a beard, and John Hammond, Jr. was there. We talked
about music. I didn't know a lot about music-a lot less than I know now,
which is still very little-but he struck me as someone who was obviously
competent in his subject. If his subject had been something that I knew
absolutely nothing about, such as mathematics, I would have still
received the same impression of competence. Dylan said he had a knack for
writing lyrics and expected to make a lot of money. He had a likeable
direct approach in conversation, at the same time cool, reserved. He was
very young, quite handsome in a sharp-featured way. he had on a black
turtleneck sweater.


---


Additional information if you are looking for  Help for addicts 

Subject: William Burroughs Passes Away
From: Aron Kay (pieman@queenbee.net)
Date: Sun, 03 Aug 1997 07:04:08 -0400

Sunday August 3 3:42 AM EDT 

Beat Generation Icon Burroughs Dead at 83

LAWRENCE, Kan. (Reuter) - William S. Burroughs, the Beat Generation
author best known for the novel "Naked Lunch" based on his experiences 
as a drug addict, died Saturday at the age of 83. 

Burroughs died in a hospital in Lawrence a day after suffering a heart
attack, said Ira Silverberg, New York-based editor-in-chief of Grove 
Press, which published several of his books. 

Burroughs' death comes nearly four months after that poet Allen
Ginsberg, another founding father of the Beat Generation. 

Along with Ginsberg and other writers such as Jack Kerouac, Gregory
Corso and Lawrence Ferlinghetti, Burroughs came to embody the bohemian, 
anti-establishment, non-conformist Beat Generation literary movement. 
Ginsberg died in April in New York. 

Burroughs was admitted to the hospital Friday after suffering a heart
attack, Silverberg said. 

"It was sudden. He was in fine health," Silverberg said. 

Burroughs was openly homosexual, spent years as a drug addict and
accidentally killed his wife with a gunshot to the head in a "William 
Tell" incident in Mexico City. In later years, he achieved cult status
among a generation of disaffected middle-class youth. 

Novelist Norman Mailer called Burroughs "the only American writer living
today who may conceivably be possessed by genius." 

Burroughs had lived in with his cats in the college town of Lawrence
since December 1981. He stopped smoking six years ago after 
triple-bypass heart surgery. 

Grove Press just last week completed an as-yet untitled manuscript of
Burroughs's previously published writings. Silverberg said the 
collection was due to be released in 1998. 

Burrough's fame was built on the celebrated novel "Naked Lunch," written
while he was living in Tangier, Morocco and first published in Paris 
in 1959. 

The book, a collection of writings about addiction, was banned in the
United States until 1962, when it won a landmark anti-censorship Supreme 
Court decision. 

Among his other books were "The Wild Boys," "Cities of the Red Night,"
and "Tornado Alley." Burroughs also was a photographer, and had produced 
drawings, paintings and sculpture. 

Burroughs once commented that "my entire life has been a struggle to
resist the dark force," which he defined as the worst aspects of himself. 

In an interview with The New York Times late last year, Burroughs said
he made notes every day but no longer wrote formally. 

"I guess I've run out of things to say," he said. 

Burroughs enjoyed a revival in recent years, and collaborated with rock
musicians. "Naked Lunch" was made into a film in 1991. 

A tribute to Burroughs was held last November at the University of
Kansas in Lawrence, and featured appearances by rock artists Michael 
Stipe of R.E.M. and former Blondie lead singer Deborah Harry. 

More recently, Burroughs made a cameo appearance in the rock video for
U2's "Last Night on Earth," which was shot in May in Kansas City, Mo. 

Last year, the Spencer Museum of Art in Lawrence held a retrospective of
Burroughs's artworks, called "Ports of Entry." 

Burroughs was born Feb. 5, 1914 in St. Louis and attended Harvard
University.


---



Subject: Old Bull Lee
From: michael lenz (mlenz@bulldog.d.umn.edu)
Date: 12 Aug 1997 20:42:38 GMT
Organization: University of Minnesota, Duluth


i'm not a regular reader of this newsgroup.  this is my first visit since the death
of mr. burroughs.  i have to say i'm apalled at at the general brutality and
ignorance that is reigning in here.  you cannot place a value on literature.  it is
not quantitative.  you cannot say that hemingway is better than burroughs or that
burroughs is better than hemingway.  you can like them both, one of them or
neither.  i think to fully appreciate burroughs you have to here the voice.
burroughs voice is that of a withered shaman.  his work is about culture's absurd
attempt to keep up with the technological explosion.  it reflects in dark humor the
entropy and isolation that has come to earmark postmodern lioterature.  for me he
was among the best.  i value cut-ups and other such experimental forms of writing.
i put only pynchon before him and i hesitate to do that because as i said before,
it's not a quantitative thing.  i was planning a trip to lawrence next summer,
maybe take in a few horde/furthur shows on the way and sit on the old mystic's
porch for a while.   (i know people who have done this.  burroughs was always a
gentleman to the wayfarers).  i don't know who said what, nor do i care, but the
person who said that he never wrote anything good after Junkie (it was origanally
published "Junkie" then reprinted "Junky") and Naked Lunch is ignorant of that last
triumphant trilogy (Cities of the Red Night, Place of Dead Roads, and The Western
Lands) and the short, but beautiful "The Cat Inside".  Burroughs caused me to
question in my own thinking and writing such elemetary things as words and phrases.
to discount his body of work as a "blight" is ignorant and short-sighted.  i for
one will miss the voice and am sorry that my plans were a summer too late.
mike lenz

p.s. Check out Ports of Entry.  it's a book of Burroughs artwork.  he was equally
talented and equally inventive in that as an artist and a writer.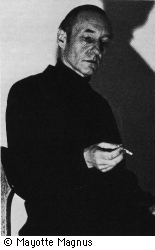 ---


---