Cardinale, Claudia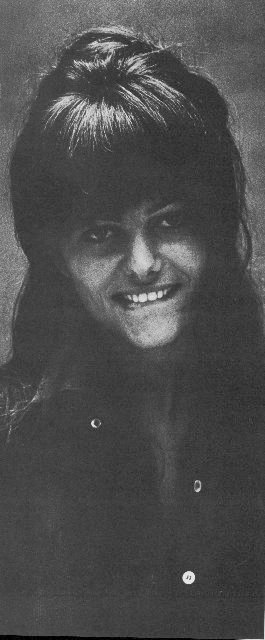 Italian film actress, pictured with Dylan on Blonde on Blonde cover.
(Gary Parker-- EDLIS myth guy):
However, many assert that Dylan appears in drag in a photo on the inside foldout of _Blonde on Blonde_ (the album--I have no idea what the cd looks like). The photo is found only in early pressings of the sleeve on the right gatefold. The more common sleeve has only three pictures on this gatefold, two photos having been deleted: the one that appears to be Dylan wearing a wig and biting his lip; and one of a young woman leaning over and speaking in to Bob's ear.
John Howells:
The woman biting her lip has been positively identified as actress Claudia Cardinale. She was probably responsible for the picture's removal, I would guess, because she may not have given permission for it to be used. Anyone know for sure?
Will Dockery, 10 Jan 2004:
Claudia was voted the Most Beautiful Girl in Tunisia, 1957. Born in Tunisia on April 15, 1938, Cardinale first attracted attention in 1957 after winning the "Most Beautiful Girl in Tunisia" contest; her prize was a trip to the Venice Film Festival, inspiring her to pursue a career in acting. After studying at Rome's Centro Sperimentale film school, she made her screen debut in 1958 in Mario Monicelli's classic caper comedy I Soliti Ignoti, followed a year later by Pietro Germi's Un Maledetto Imbroglio.
http://www.claudiacardinale.info/