McTell, Blind Willie
1901-1959 blues singer, influence on Bob Dylan.

He appeared under several record names: Blind Sammie, Georgia Bill, Pig'n' Whistle Red.

Dylan has subtly referred to Blind Willie McTell in the song
Highway 61 Revisited; "Georgia Sam, he had a bloody nose".
Georgia Sam was a recording pseudonym that Blind Willie McTell used.
From Ed, May 2001
---

From Columbia/Legacy, Roots N' Blues
Great Blues Guitarists, String Dazzlers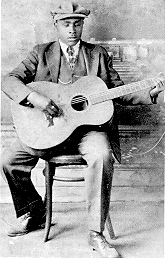 From Columbia/Legacy, Roots N' Blues
Legends Of The Blues, Volume One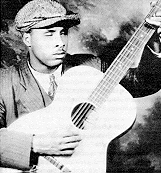 From Columbia/Legacy, Roots N' Blues
The Slide Guitar, Bottles, Knives & Steel




Text copyright © 1995, 1996 by Curtis Hewston

From: stuempges@usa.net
Date: Tue, 07 Apr 1998 19:23:55
I noticed two bits you might want to add to Expecting Rain.  The influences page 
doesn't mention the Blind Willie McTell song which included the line 
"Lay across my big brass bed." It's "Rough Alley Blues" on 
the Definitive Blind Willie McTell via Legacy/Columbia.

The song "Blind Willie McTell" discussed.
---


---