Mulhall, William
The acclaimed artist who had Access All Areas at Dylan's show in Kilkenny Ireland
on July 15th 2001.
There is a lot of info about him on the Apollo Gallery
including pictures of the many of his Dylan inspired works.
One painting in particular is a lifesize "cardboard-cutout" style
of Dylan as he looked before the Kilkenny concert, guitar in hand.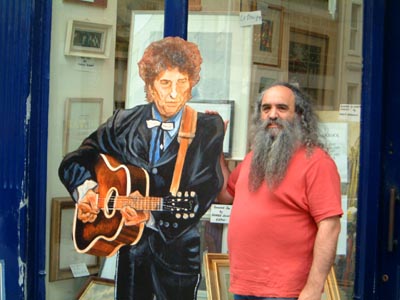 I am now the proud owner of this brilliant painting.
If only I could get Bob to sign it.
Thanks a lot,
I have been a steady follower of your site since I discovered the Internet in 1997
Mark Mc Govern (wild_mercury_sound in pool.dylantree)