Rivera, Scarlett

Previously unknown violinist discovered by Dylan on the streets of Greenwich
Village in June 1975, whose sound made such a contribution on the Desire album
and Rolling Thunder tours of 1975/6.

Clinton Heylin:"Bob Dylan: Behind The Shades, a Biography"

RS:

Bob Dylan's Rolling Thunder Revue violinist makes discofied gypsy music, more
notable for its pretentiousness than its charm.

Update 30.04.2000:
Scarlet Rivera was part of the Rolling Thunder Tour back in 1975/76.  


Then, on November 14, 1999 Scarlet Rivera was among the performers at The Baked Potato 
 1999 "Angel Award" ceremony for Alex Ligertwood and Miles Davis.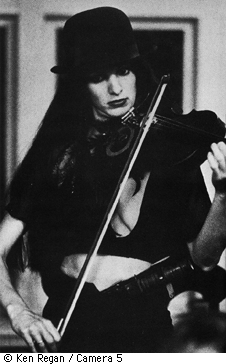 ---


---