Elliott, Ramblin' Jack
RS:

[He was] a great influence upon the early Bob Dylan.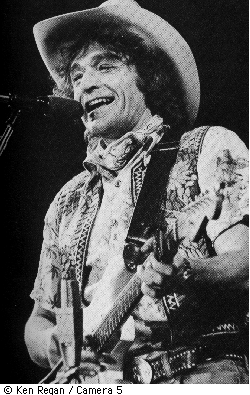 More images from http://starbulletin.com/96/06/06/features/story1.html:
One and Two.
Sang backing voice on an unreleased recording of Mr. Tambourine Man.
Ramblin' Jack Elliot's CD "Friends Of Mine" contains the song "Bleeker Street Blues", which sums up his relationship with Bob Dylan.
In 1998 he won the National Medal of Arts award, to be presented to him by the President of the US on November 5.
Ramblin' Jack Elliott website.
---


---