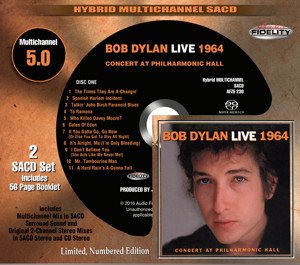 Deadline: Entries must be received by Monday morning at 0600 CET, March 14. Only one entry per eMail address!
Four winners will be chosen by random drawing on March 14 prior to the double-SACD release. The winners will be contacted directly and their names will be announced on this web site and related social media as well as the Audio Fidelity web site and social media. The names will be randomly drawn by the mastering engineer on this historic release, Steve Hoffman.

March 19, 2016: The four winners of the Bob Dylan Live 1964 Contest in association with Audio Fidelity are: Christopher Gambon, Andrea Orlandi, Tom Davidson and Mary Ellen Voss. Over 400 correct answers were received. Congratulations! The Discount Coupon is available for 20% Off the SRP by visiting audiofidelity.net and entering the Code LIVE64 (this is not case sensitive) at checkout

Special 20% discount:
If you wish to buy a copy of BOB DYLAN LIVE 1964 directly, Audio Fidelity is offering a 20% discount off their web site https://audiofidelity.net
Enter the Discount Code: LIVE64 when prompted in the checkout process. You will receive a 20% discount off of the $59.99 (US) purchase price. This exclusive discount offer expires June 30, 2016 and applies only to this title.

You can also order from amazon.com - .co.uk - .de.
---