The Bob Dylan Exhibition
Please use your RELOAD button to make certain you get the latest update of this page!

---
| | | |
| --- | --- | --- |
| | The Bob Dylan Exhibition consists of art, drawings etc.by Dylan fans on the Net, and everything is published by permission. There will be new exhibits whenever I can get any (!). Artists who would like to exhibit a piece of their work, please E-mail me: webmaster at expectingrain.com (replace "at" with "@") | |
(November 27, 1997)

The image is loading while you are reading this page. When all is quiet, click on the title!

Rolling Thunder Bob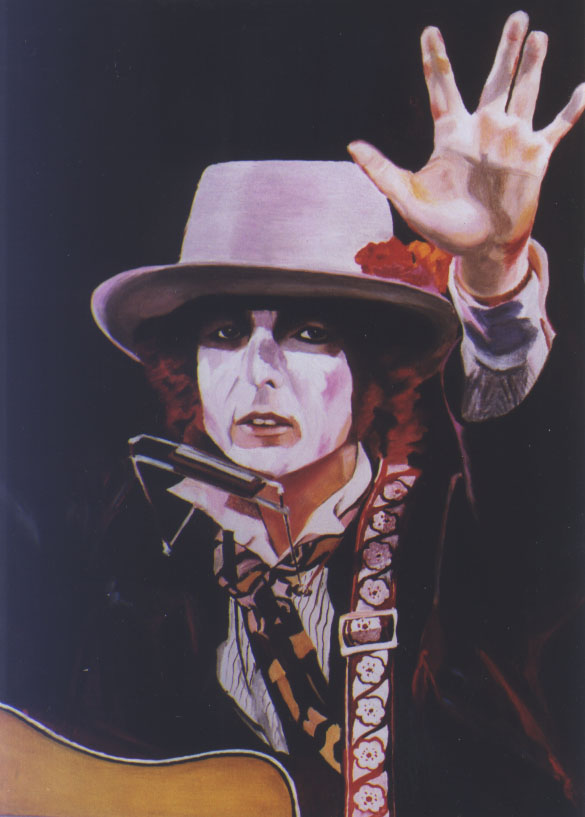 by Paula Pitsaris.
---
The image may be larger than what is displayed inside your browser window. With Netscape on a Mac, hold down the mouse button for a few seconds. With Netscape for Windows, press the right mouse button. You will then be allowed to view the image alone in the browser.

Previous BDX's:

By Anonymous(es):
Bobograph
Bobs
Plasterbob
Too Much
Untitled

Alias by by Richard H. Berns.

Thief of Thoughts by Jim Bourdon.

Drawing of Bob by Mattias Davidson.

L'Etranger by Peter Gallagher
(Featured on the cover of World Gone Wrong)

joker '81 by John Henry

By N. Hernandez:
Under The Red Sky
Heart of Mine, plaster, 1993

By Dee Locke:
Halloween Bob
I Want You
Rhyme Out Of Mind - a poem
Why

By Diana Lopez:
Emotionally Yours
Forever Young
Bobness

By Marguerita:
Untitled # 1
Untitled # 2

By Paula Pitsaris:
Rolling Thunder Bob

By David Reisman:
Alcatraz
Allen
Chaplin
Desire 1
Desire 2
Elvis
Following
Freud
Outdoor
Raul
Receipts
Requests
Stones
Union

By Sigrid Trumpy:
Cafe Lena
To Erik
Tourbus in Portland
See also Sigrid's oil paintings

By Aart Verspuij:
Dylan/Utrecht 6/21/96 - 1 and 2

By Walking Mountain Range:
Blonde On Blonde
The Unwritten Lyric